There have been a lot of speculations and rumours going around about the new iPhone so called 'iPhone 6S' and 'iPhone 6S Plus'.
You thinking about getting the iPhone 6 or iPhone 6 Plus soon? Hey just a little patience guys, we won't have to wait that long anymore since it's already July, or you might end up regretting that you didn't wait a little bit longer like me. I bought my iPhone 3GS just two months before Apple released the iPhone 4. I bet you can guess how I felt back then. 
So you may be wondering how powerful and what kind of features the new iPhone would get if you are thinking about upgrading your iPhone this year. An unconfirmed document was posted by an alleged Foxconn employee on Chinese Twitter Weibo. (Foxconn is the largest supply chain for Apple)
According the document, it indicates that the new iPhone 6S and iPhone 6S Plus could feature a 12-megapixel rear facing camera with 4K video recording and 240 FPS slow-motion capabilities.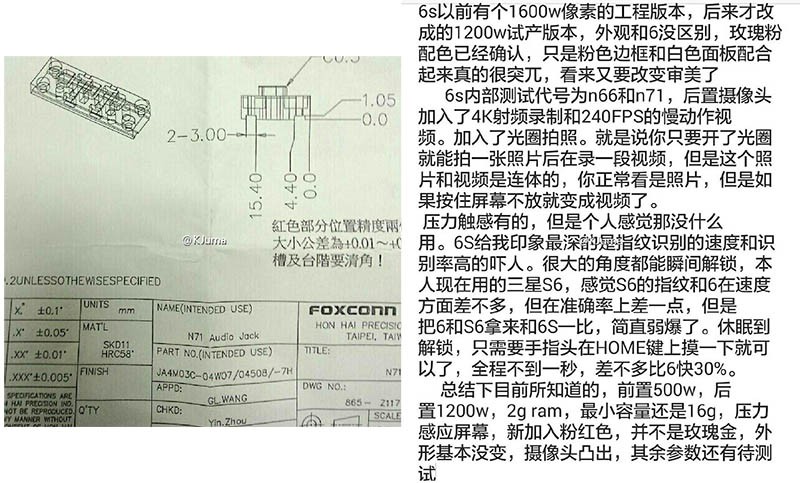 The document also suggests the both device iPhone 6S (codename: N66) and iPhone 6S Plus (codename: N71) will have 2GB ram, which is currently used for the iPad Air 2. If these rumours are true, I'm definitely upgrading my iPhone, I didn't buy the current iPhone since there was no major camera upgrade from the iPhone 5S. It was a big deal for me since I love taking photographs using my iPhone, and of course 2GB ram upgrade is definitely welcoming.
These rumours are still of course unofficial, however these features could highly be real since KGI Securities analyst Ming-Chi Kuo (who has a respectable track record at reporting on Apple's upcoming product plans) has the similar report. We reported earlier about the new rumoured iPhone features that could highly be true here. Let me make an updated version list of rumoured features with only high-reliability.
Force Touch will be the biggest upgraded selling point, but also one of the main bottlenecks of the supply chain. Force Touch can enrich user experience due to more input methods and support of handwritten signatures, which is beneficial for expanding in the commercial market.
Screen will remain at 4.7 and 5.5 inches, with resolution the same as existing models. 
There will be an additional casing color, rose gold, matching the rose-gold Apple Watch Edition.
The camera will have a pixel upgrade, likely to 12MP with 4K video recording. 
One microphone will be added near the speaker to enhance voice quality.
The A9 processor with upgraded 2GB LPDDR4 will be adopted.
The bending issue will be improved by using different casing materials and internal mechanical design changes.
The recognition rate of Touch ID will be improved further in a bid to promote Apply Pay. 
Gesture control support.
It's expected that mass production will start in mid-to-late August. Total shipments will be 80-90mn in 2015, with a 2:1 ratio of 4.7-inch and 5.5-inch models.